Just got back from drinks with a few former Frontier co-workers (including ), one of them had just moved back up to Rochester from a job out of state.. so I guess this was a little bit of a welcome back for him. Its always a good time seeing those guys and hearing how things have changed in the ~9 months since I left.
Today was also raking leaves day.. though we kind of did a half-assed job as it started to rain. One of the neighbors tells me that the vacuum truck comes on Fridays, so maybe I'll pile all the leaves we raked up onto a tarp later this week and then drag it out front.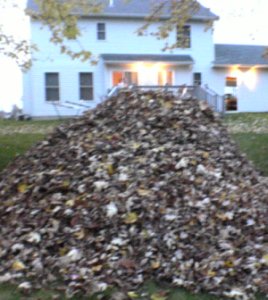 I am thinking that we'll carve pumpkins later this weekend.
Someone in the neighborhood started doing this "boo"ing thing, where they drop off a bag of candy at your doorstep, ring the doorbell and then take off before you answer and then you have to do the same to like 3 other people in the neighborhood. I don't know who came up with this, but it sounds like I'm stuck doorbell ditching a few of my neighbors tomorrow.
Oh, and about 1.5 hours ago I turned 30, so that is fairly big news I guess. Still kind of feel the same.